The Old Barley Market is proud to boast the best Craft Beer and Import selection in Merritt!  We strive to bring in great new additions for you to try.  Be sure to check out our Craft Beer section for some of the best tasting, award-winning, locally brewed beers from throughout British Columbia.  We also have some fantastic imported beers that you have got to try!  Be sure to try something new, and you just may find a new favourite!  Support your local breweries, and enjoy some delicious beers of all varieties, including: many different hops, organic brews, fruit-infused beers, and much more!  Our Craft Beer and Import section is easy to find: Doors 12-14 in the Old Barley Market!
---
Granville Island Cypress Honey Lager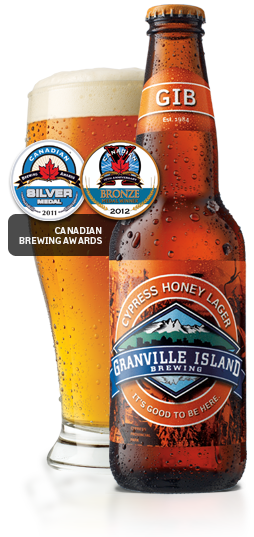 Brewed in small batches, it is lightly hopped, mild and bright, and given a hint of sweetness with pure Fraser Valley honey. It's like a refreshing blast of Cypress Mountain air. Soft malt flavour with hints of honey, balanced with a light hop bitterness. Pairs well with poached or grilled, lighter tasting seafoods such as white fish or shellfish.
$15.45 / 6-Bottles
---
 Granville Island English Bay Pale Ale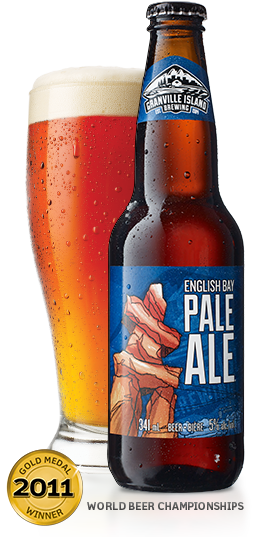 This classic pale ale is a tribute to the laid-back shores of English Bay. Skillfully balanced like the iconic inukshuk, with malt-forward caramel flavours and rich copper hues. Its easygoing style pairs with a good burger and casual banter. Caramel malt flavour and light hop bitterness, balanced with a dry roasted finish.
$15.45 / 6-Bottles
---
Granville Island Kitsilano Maple Cream Ale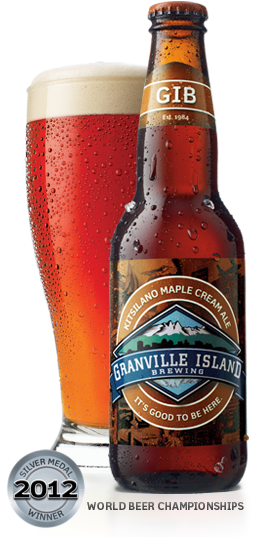 Brewed using a hint of pure Canadian maple syrup, it is a smooth reminder of Vancouver's laid-back lifestyle. Enjoy the bold taste of this bronze-coloured ale and toast all that BC has to offer.  Caramel malt with light hop bitterness, balances the malt flavours with hints of maple without being sweet.  Flavours go well with all kinds of roasted meat flavours.
$15.45 / 6-Bottles
---
Also available: The 12-Bottle Granville Island Mixer Pack!
---
Nelson Harvest Moon Organic Hemp Ale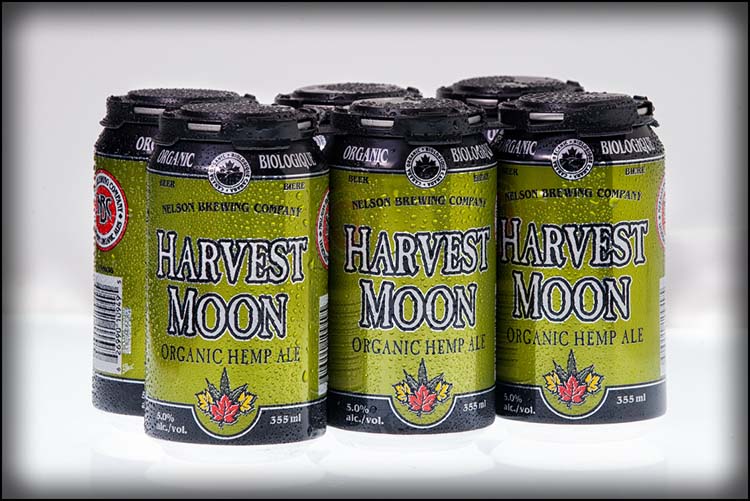 2005 Canadian Brewing Awards

Silver Medal Winner
Harvest Moon is a Kolsch style ale that is cold conditioned on something the locals call Kootenay time. Brewed with the finest organic Pilsner and Munich malt, organic wheat and just a twist of B.C. culture… organic toasted hemp seeds.
$15.45 / 6-Cans
---
Nelson Wild Honey Organic Ale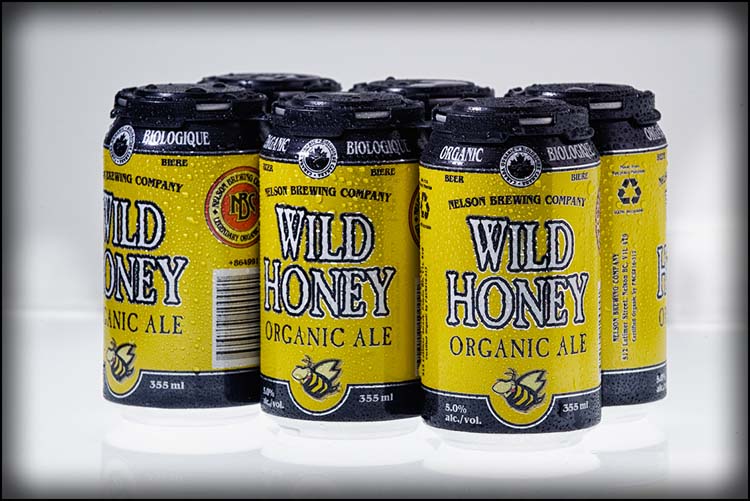 2005 Canadian Brewing Awards Silver Medal Winner
2013 B.C. Brewing Awards first place winner " Session Ale"
This light, malty, organic ale is the beer that's causing such a buzz in British Columbia. By combining organic honey with specially chosen organic malted barley and organic hops, they have created a golden ale that reflects the mountain experience.
$14.50 / 6-Cans
---
Nelson Black Heart Organic Oatmeal Stout
2003 Canadian Brewing Awards Gold Medal Winner
Praised as the one of the best stouts in British Columbia. This smooth black beauty compliments the roasted barley accents of a dry stout with the unmistakably rich and silky finish that only oatmeal can provide. Treat yourself by drizzling a fresh shot of local espresso into your pint of Blackheart.
$6.00 / 650mL Bottle
---
Vancouver Island Piper's Pale Ale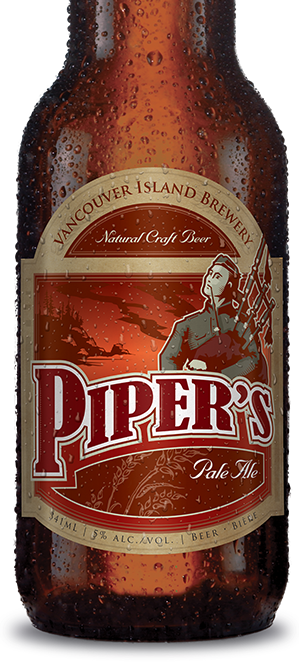 Piper's Pale Ale was named in honour of Canadian war hero Piper James C. Richardson who was lost during the bottle of the Somme during WWI.  Caramel and Roasted Chocolate malts, along with Willamette and Hallertau hops, gives a medium body with a fruity hop finish.
$15.00 / 6-Bottles
---
Vancouver Island Sea Dog Amber Ale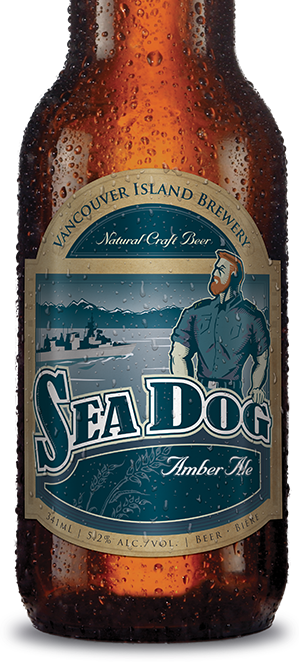 Honouring the Canadian Pacific Naval Fleet, this beer is a tribute to 100 years of protecting our waters, our citizens, and our sovereignty.  Sea Dog is an amber coloured beer with a burst of hops and smooth malt finish.
$15.00 / 6-Bottles
---
Fernie Project 9 Pils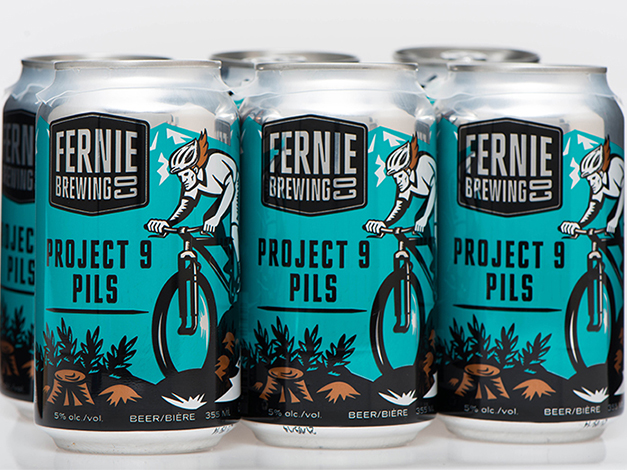 Brewed right in the Canadian Rockies, Project 9 is a true Bavarian Pilsner with exceptional continental hop flavour that can only be achieved by a selection of fine noble hops including the Saaz variety. The use of Munich, Pilsner and Pale western Canadian malts and time honoured brewing methods produces a clean, crisp Bavarian Pilsner that is truly transcendent.  Great with spicy foods or a variety of cheeses!
People's Choice Award for Best Beer at the Okanagan Fest of Ale 2014!
$15.00 / 6-Cans
---
Lighthouse Lager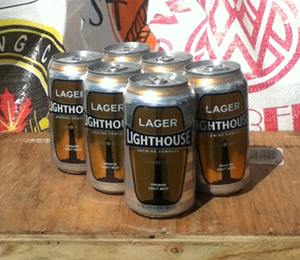 This brilliant lager with its elegant straw colour and subtle malt aroma is a guaranteed crowd pleaser. Simple yet golden.
$12.75 / 6-Cans
---
Dead Frog Bold Belgian Pale Ale

A glorious combo of Northwest hops & Belgian aromatics.  An unfiltered pale ale that combines the fruit flavour and spices of traditional Belgian pale ales & the complex malt base of North American pale ales to create a unique new world take on an old world brew.
$15.45 / 6-Bottles
---
Mt. Begbie High Country Kolsch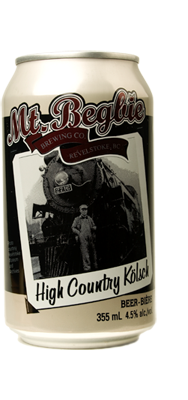 High Country Kölsch is a pale, mildly hopped beer which originated in Köln, Germany. It is brewed with authentic Kölschbier yeast. It is the yeast combined with a portion of wheat malt that gives this beer it's unique, delicate characteristic flavour. It is an excellent choice on a hot summer day!  A perfect complement to German cuisine, chicken or fish.
Gold Medal Winner at the 2011 and 2006 Canadian Brewing Awards and 1st place at the 2012 BC Brewing Awards.
$14.75 / 6-Cans
---
Mt. Begbie Tall Timber Ale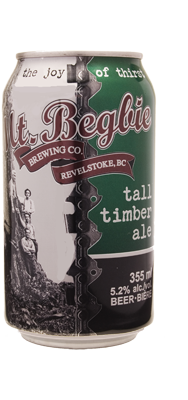 Tall Timber Ale is a dark, full-bodied English Brown Ale alive with rich malt flavour, caramel undertones and a slight residual sweetness. The use of Goldings finishing hops and an authentic top cropping ale yeast round out the traditional Brown Ale character.  Ideal with red meats or aged cheeses.

Gold Medal Winner at the 2006 Canadian Brewing Awards and Bronze medal winner in 2007.
$14.75 / 6-Cans
---
Prohibition Bootlegger Amber Ale

Prohibition Bootlegger Ale, is a light, crisp and refreshing Amber Ale. Hints of Cascade Hops, and Chocolate Malt bring this Amber to life. Bootlegger Ale has a bitter front end and a clean finish that doesn't linger too long. It is the perfect choice for those looking for a sessionable delicious beer!
$14.75 / 6-Bottles
---
Cannery Naramata Nut Brown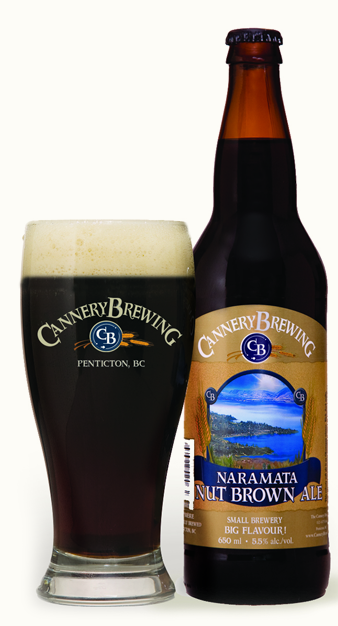 This velvety soft ale has a stubbornly loyal following. Rich dark malts are layered in a seamless manner. Fine tuning with a blend of bittering, aroma, and flavour hops produce an amazingly smooth finish and a lingering taste. This is a full bodied ale with a rich and gentle flavour.
$6.00 / 650mL Bottle
---
Cannery Collection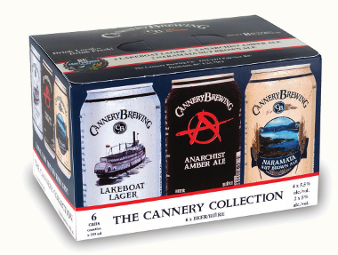 Talk about a six pack with flavour! With 2 of each selection, the Cannery Collection offers a great diversity of flavours. Start with our crisp and refreshing Lakeboat Lager, then move to the full bodied harmony of our Anarchist Amber Ale and finish with the smooth velvety taste of our Naramata Nut Brown Ale. This box has it all in one convenient package!
$15.50 / 6-Cans
---
Whistler Powder Mountain Lager

Voted by Whistler residents as their preferred lager, this lightly hopped North American style lager has become a top seller. It's crisp as a moonlit night, cool as a mountain stream and clear as a howl at midnight.  Pair it with: mexican dishes, nachos, grilled seafood, and light cheeses.
$15.00 / 6-Bottles
---
Whistler Lost Lake IPA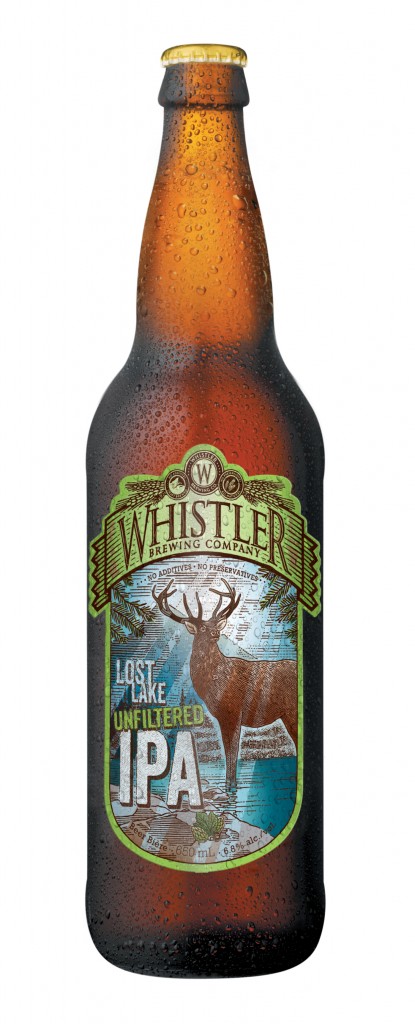 Like the waters of Lost Lake, this Unfiltered India Pale Ale is refreshing and with a real bite. But this is a complex drop, too, with fruity notes of grapefruit and passion fruit. For Extra body and mouthfeel, Lost Lake IPA is naturally carbonated and unfiltered. Pair it with: BBQ lamb, bison burgers, roasted red peppers.
$5.95 / 650mL Bottle
---
Steamworks Pale Ale

This Northwest style pale ale is a confident beer with citrusy character, balanced with layers of malty goodness.
$15.75 / 6-Bottles
---
Steamworks Pilsner

AWARDED THE HONOUR OF BEST CRAFT BEER IN BC by the BC Craft Beer Awards in 2011 & 2012!
An homage to the original Pilsners of the Czech Republic. This full bodied beer has a spicy, herbal finish with hints of lemon. 
$15.75 / 6-Bottles
---
...And many more! Be sure to check the store for new and exciting products, as well as giveaways and draws for sweet prizes!